Sony has been working on the H series and earlier, one of its phones, the Sony H3213 Avenger, appeared on benchmark listings. Today, we are here with a fresh piece of news according to which, Sony H4133 has been spotted on the GFXBench listing. 
Sony H3213 Avenger was spotted on benchmark listing last week and is shown to be the first dual-camera device by the company!
The phone will launch in 2018 and we can say it because Sony has a trend of naming each year with an alphabet and taking out model numbers with that particular alphabet for the whole year. The company has chosen H for the next year and hence, the Sony H4133 is expected to launch then.
The listing has given a keen insight into all the major specs of the device, as is the custom. The Sony H4133 will run on the Snapdragon 630 octa-core processor, clocked at 2.2 GHz and will feature 3 GB RAM + 32 GB ROM. 
Thanks to these specs, we are almost sure about the device being a mid-range phone.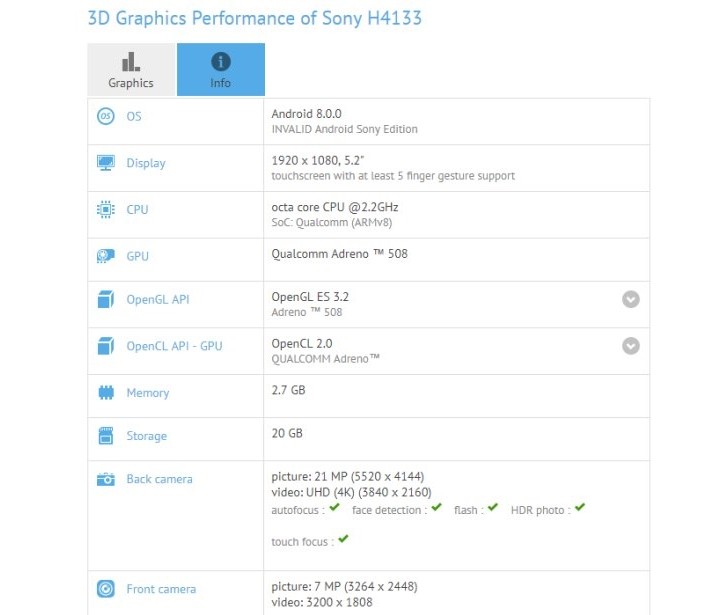 The Sony H4133 will feature a 5.2″ display with a resolution of 1920 x 1080 pixels. The camera specs of the phone are shown to be 21 MP for the rear sensor and 8 MP for the front snapper. The rear camera will also be graced with an LED Flash. The camera will support 4K video recording as well!
The phone runs Android 8.0 Oreo and we're expecting it to launch with the latest Android version as well.
As far as the pricing of the phone is concerned, we are expecting it to be a mid-range one, as mentioned earlier and we'll have to wait some more till all the other details surface the internet.
What do you think about the Sony H4133? Do you think that it will be a good performer with such specs? Let us know in the comments below!
Stay tuned to Mr. Phone app and website for all the latest updates. Also, if you wish to write on our website, check the second edition of our Blogging Contest out.