Qualcomm has announced its top of the line Snapdragon 845 SoC (System on a Chip) at the "Snapdragon Technology Summit" held in Hawaii, earlier this month. Since Snapdragon 845 is likely to be used in most of the flagship smartphones of 2018, let's take a quick look at how much of an improvement it is bringing over the current flagship Snapdragon 835 SoC.
For instance, Snapdragon 835 was used in almost all major Android flagships in 2017 and it performed really well in delivering a smooth end user experience. We expect it's successor to continue the trend in 2018 also.
Specifications (Compared with SD835)
First of all, Snapdragon 845 is manufactured using Samsung's Second generation 10nm FinFET technology which offers 10% higher performance and 15% lower power consumption compared to its first generation counterpart used in Snapdragon 835. The SD835 itself was highly praised for its power efficiency and thermal management so the story would be same if not better for SD845.
Snapdragon 845 has a 64-bit octa-core Kryo 385 CPU clocked up to 2.8GHz. Qualcomm is (most likely) using a cluster of 4 high-powered ARM Cortex A75 (Clocked at 2.8GHz) and 4 low-powered Cortex A55 (Clocked at 1.7GHz) in the Kryo 385 CPU. Do note that Qualcomm is not using the cores as such from ARM, instead, they took the basic core design and made their own tweaks and slapped a new name on to it.
Real benefits of new core architecture and 2nd generation 10nm manufacturing process are shown by the increased core clock of 2.8GHz which is 350MHz higher compared to the Kryo 280 CPU (clocked up to 2.45GHz) used in Snapdragon 835. Qualcomm is promising a performance improvement of up to 30% and 15% on high-powered and low-powered cores compared to its predecessor.
Now, coming to the GPU, Snapdragon 845 is making use of Qualcomm's in-house designed Adreno 630 which offers 30% improvement compared to SD835's Adreno 540. So, we'll see better performance in gaming as well as Augmented Reality related applications.
If you aren't aware, a mobile processor doesn't just contain CPU and GPU (like that on most PCs or Laptops), but a slew of other components like Digital Signal Processor (DSP), Image Signal Processor (ISP), Modems, memory blocks and a lot more. These components are critical when it comes to various aspects of the smartphone like signal reception, connectivity, image/video capture and playback, etc. Since all these components are integrated on a single chip, the processor is called System-on-a-Chip or SoC.
With Snapdragon 845, Qualcomm brought noticeable improvements to these components as well.
The new Spectra 280 ISP brings 4K video capture at 60 frames-per-second, 480fps slow motion at 720p resolution and the ability to playback as well as capture 10-bit color video. In comparison, Snapdragon 835's Spectra 180 ISP maxed out its video recording capabilities at 4K @ 30fps and it could only playback (not capture) HDR 10 content. Note that 4K 60fps video was one of the USPs of iPhones this year. It also enables improved depth sensing capabilities in order to obtain better portrait shots which are becoming a norm on flagships and even mid-range smartphones these days.
Face ID on iPhone X, cameras of second-generation Pixel devices, Google Lens, dedicated Neural Processing Unit (NPU) on Huawei's Kirin 970 SoC – all of these points towards the increasing involvement of Artificial Intelligence in mobile computing. We will definitely see more applications of AI in smartphones in the coming days and Qualcomm is already aware of the situation. While Qualcomm hasn't really gone ahead and put a dedicated NPU in Snapdragon 845 but tweaked the CPU, GPU, and especially the new Hexagon 685 DSP for handling AI and Imaging workloads 3 times better than its predecessor.
As far as connectivity and speeds are concerned, Snapdragon 845 comes with Qualcomm's X20 LTE modem which supports download speeds up to 1.2Gbps and upload speeds up to 150Mbps. For instance, Snapdragon 835's X16 LTE modem had a peak download speed of 1Gbps. While global LTE speeds are far from 1Gbps at the moment, but the rate of growth in this realm is immense so we might see those speeds within a year or two.
Qualcomm also brought upgrades to the Wi-Fi module with 60Hz 802.11ad standard along with 802.11ac and simultaneous dual-band support.
Smartphones nowadays are using various methods of security measures ranging from simple Pattern/PIN to complex iris scanning and AI-driven face unlocking techniques. As security is one of the major concerns, Qualcomm has included a dedicated chip inside the Snapdragon 845 SoC, which they call the Secure Processing Unit or SPU, for storing and verifying biometric information securely on the device itself that means the information won't be transferred over internet thereby avoiding the risk of potential leakage.
Apart from the above-mentioned improvements, Qualcomm is bringing enhanced file transfer, power efficiency and a number of high-quality audio codec support for Bluetooth 5.0. It comes equipped with Qualcomm Aqstic Audio codec – WCD934x, which would help in keyword recognition for virtual assistants while keeping the power consumption as low as possible. Quick Charge 4+ with USB power delivery is also baked into Snapdragon 845 for improved speeds and battery temperatures while charging.
You can check out the complete specifications here
Even though Qualcomm has introduced all these new technologies in their processor, it's up to the actual smartphone manufacturers to decide how better or if at all they utilize these technologies in their device. For example, let us consider the fast charging techniques used by various manufacturers. Qualcomm Snapdragon 835 had support for Quick Charge 4, but most of the manufacturers didn't make good use of it. While Samsung, Motorola and OnePlus came up with their own fast-charging technologies, HTC in their U11 Plus and LG in LG V30 stuck with the older Quick Charge 3.0. 
Xiaomi has already confirmed that they would be using the latest and greatest from Qualcomm in their upcoming flagship – Xiaomi Mi 7. Samsung would also be using the chip on their US variant of Galaxy S9 and S9+. In fact, Geekbench scores of Samsung Galaxy S9/S9+ running on Snapdragon 845 is already out, let's take a quick look at the scores before wrapping up.
Click here to know more about the benchmark scores and specifications of Samsung Galaxy S9/S9+
Benchmarks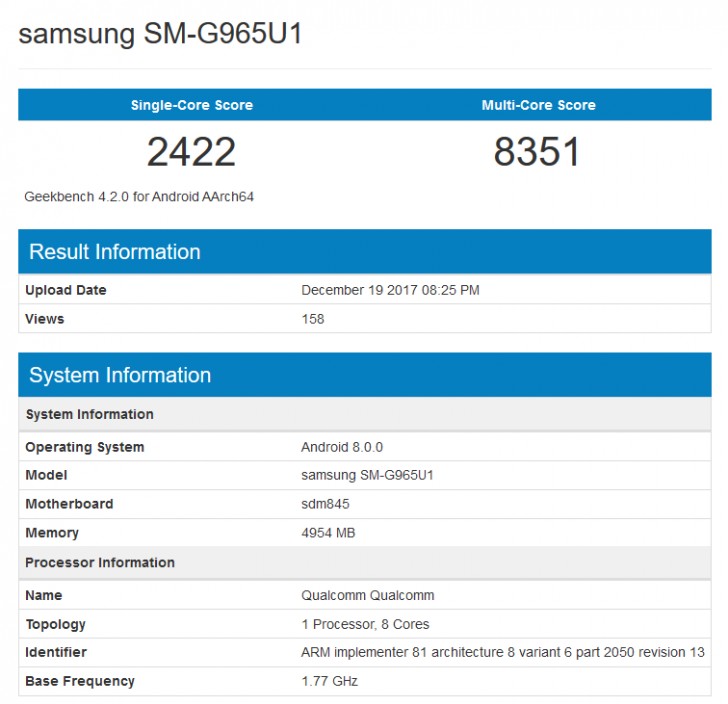 Though the scores are from a pre-production unit, I don't think there would be a night and day difference in CPU performance between this one and that from a normal retail unit. And also, benchmark scores are not all when it comes to a smartphone's overall performance. Software and optimization play an important role here. But as of now, these scores are all that is available to us.

When compared with the Snapdragon 835, Huawei Kirin 970 and Samsung's Exynos 8895, Snapdragon 845 is offering a noticeable improvement in both single-core and multi-core scores. That being said, it is not even close to the scores of Apple's A11 Bionic ( used in iPhone 8, 8+ and X ) in both single and multi-core departments. These scores don't necessarily mean iPhones provide twice as much performance as its Android competition, but in a long run, the A11 Bionic would be able to deliver consistently better user experience especially in a situation where applications are becoming resource hungry day after day. Also, do take note that Exynos 8895 is Samsung's flagship SoC for 2017.
Is Snapdragon 845 a worthy upgrade?
Yes, it surely is. As you have seen in the benchmark scores, it is the best-performing chip as of now, at least on Android side. I really wished it could outperform Apple's A11 Bionic in terms of performance, but it didn't happen. Not just sheer performance, Snapdragon 845 brings a ton of improvements with it, let's hope all these would reflect very well on real-world usage too.
It would be really exciting to see how Snapdragon 845 fairs against Samsung's 2018 flagship SoC and Apple's upcoming A11 X and A12 chipsets which will power next-generation iPad Pros and iPhones respectively.
Qualcomm has been dominating the mobile processor arena ever since the early days of mobile computing. Even though most of the flagship smartphones are making use of Qualcomm processors, competition has skyrocketed in the last few years. With big players like Samsung and Huawei coming up with their in-house processors and Apple playing the real multi-core game, Qualcomm's Snapdragon SoCs are facing the biggest competition ever in their history.
What do you think about the new Snapdragon 845 SoCs? Are you satisfied with the benchmark scores? Let us know your thoughts in the comment section below.
Also, don't forget to download the Mr.Phone app from Play Store to stay updated with latest happenings in the tech world.