Samsung is going to launch its Galaxy S flagship on February 25 in MWC 2018 and we have already heard a lot about the two phones. The latest news is regarding the bigger of the two phones, the Galaxy S9+ as it has appeared on GeekBench listing, showing the major specs and of course, the score. 
The phone is given the model number SM-G965U1 and has managed to gather an impressive score of 2422 in single-core test along with a whopping 8351 points in multi-core tests! The S9+ has basically surpassed all the phones which are powered by the Snapdragon 835 and one can even say that the device is getting a better score due to the presence of Snapdragon 845. The processor is the latest by Qualcomm and all we have got to say that this is AMAZING. The score has increased by 27% for single-core tests and by 31% for multi-core tests. 
Click here to know each and everything about the two upcoming devices by Samsung!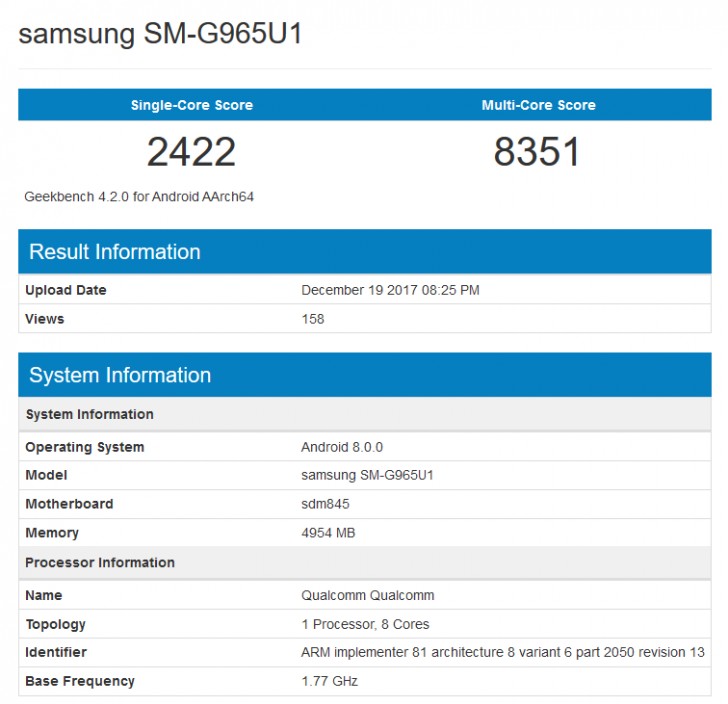 However, the S9+ is still behind the iPhone X, thanks to Apple's A11 Bionic chip. On the other hand, we'll advise you to take all these scores with a pinch of salt since scores are scores and the real (practical) life is very different from them. 
The S9+ has been listed to have 5 GB RAM but that is highly unlikely since the device is supposed to come in two variants, one with 4 GB RAM and another with 6 GB. This can be one of the many mistakes that the benchmark listings are prone to!
Have you seen the 360 view of the Galaxy S9? Watch it here!
Along with this, the S9+ will run Android 8.0 Oreo (Samsung is catching up) and will have a dual camera setup at its disposal. The phone varies from the Galaxy S9 in this regard primarily since the latter is laced with a single shooter. The fingerprint sensor has been shifted below the main camera since the one in S8 was next to the camera, which proved to be quite distasteful for the customers! We are hoping to see the two gorgeous devices soon and while we are at it, we hope that the South Korean giant works more on introducing Android Oreo on its mid-range devices as well!
 Watch this video to view the mighty S9+ in full glory!
Are you waiting for the S9+? Would you like to buy these phones? Do you have any questions for us? Let us know in the comments section below!
Stay tuned to Mr. Phone and download our app to stay abreast of the latest from the world of technology.